First off, I want to congratulate my cousin Julie and her husband Joe on the arrival of Baby Jayden on May 23! I can't wait to see pictures of her, I know that she's just beautiful--she has to be because her parents certainly are!

Now, someone please remind me not to post when I'm very upset. I guess I worried a lot of people with my last post. I've been getting a lot of telephone calls and e-mails. It's good to know that people care but I'm really ok. I'm not just saying that (I promise Mom and Dad!). I just have times when everything comes crashing down on me. You will all be happy to know that I will be seeing my doctor on Friday.

I decided to just call my GP. When they asked what the appointment was for, I wasn't quite sure what to say. I just said that my son had died 5 weeks ago and the woman told me to stop right there; she was sorry for my loss and that's all that she needed to know from me. She was very nice and I'm glad that I didn't have to go into everything. But I know that I will have to on Friday so I'm trying to gear up for it. I feel much better just knowing that I've made the appointment.

I got a phone call from the Ft. Worth Milk Bank yesterday. All of my labwork came back clean and they were able to immediately use my milk. I guess that's good, I'm still sad that Drew didn't get to use it but maybe it will help someone else's baby.

I updated Elizabeth's website yesterday. If you'd like to see my crazy girl, you can find her website here. Today was one of "those" days with her. I really hate those days--she pushes every one of my buttons, whines, throws tantrums, lies, etc. all.day.long. Nothing makes her happy and she's so damn stubborn! At least she kept me busy, lol! But I'm glad that she's sleeping peacefully right now. :)

I've had the opportunity to "meet" a wonderful person through this blog. This individual gives to others selflessly (is that a word?!) and has been a very good source of support. Lauren has also benefitted from this person. You need to go to Lauren's blog to see what I mean. Shawn made this beautiful picture for me and I LOVE it: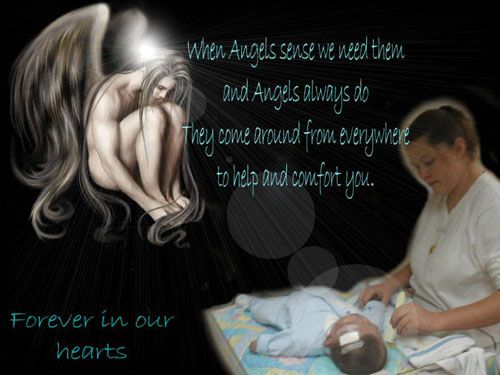 I just want to share some other things that we've received in memory of Drew. Each thing just touches my heart so deeply. From a wonderful group of women that I have the pleasure of knowing, a bracelet for me with Drew's birthstone, a bracelet for E. and a personalized picture frame with the picture of Raymond and Drew touching noses (one of my favorites):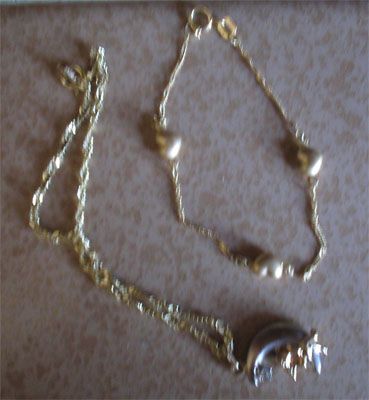 From another friend, a Crayola Color Wonder book for Elizabeth and some nice relaxing bath stuff for me: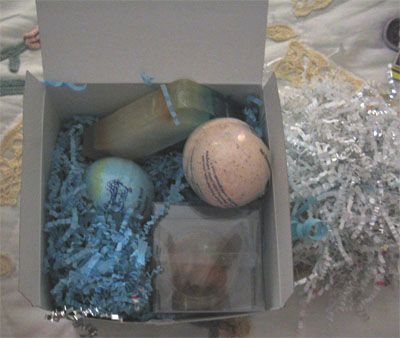 And from yet another friend, this beautiful plate and a poem that she wrote (I hope that she doesn't mind me posting the poem, it really speaks to me):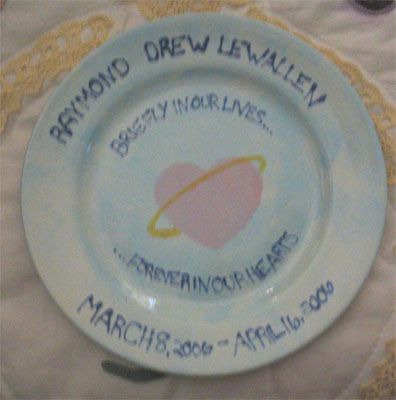 Gone Too Soon

Just a few weeks you were here
Not nearly enough time
You'll never know all the lives you touched
Or just how many loved you
You were gone too soon.

Everyone was awaiting your arrival
Anxious and hoping and praying
We all knew the joy you'd bring
And all the love you'd be given
How your family longed to hold you
Even for a moment
You were just gone too soon.

You fought so hard
Harder than anyone could have asked or imagine
We all prayed you'd come home
But it was not to be
God had another plan for you
As much as it hurts all of us
We know you are not hurting anymore
There is no more pain for you
But, Baby Drew, we all miss you
For you were just gone too soon.

Isn't that lovely?! Meredith, you captured my feelings so well in that poem.

I'm going to tell you all about something that I'm working on. When I finished the book "Empty Cradle, Broken Heart: Surviving the Death of Your Baby," by Deborah L. Davis, I felt that it could help a lot of people. I'm glad that it was suggested to me; it validated much of what I think and feel and helps to know that you're not alone. The very last page of the book says to contact the publisher for discounts for bulk purchases.

I then thought, I wish that every family who has to leave the NICU without their baby could have this book. So I have decided to purchase and donate copies of the book to the OU Medical Center NICU, a copy to be given to every family who loses their child. I'm currently working on coordinating everything. I wanted to put a bookplate on the inside cover of each book like Amanda does with Connor's Books. That's where another amazing woman comes into the picture. She designed this bookplate for me and I think it's perfect, remember dinosaurs were Drew's "animal" that Raymond chose before he was born (E.'s are frogs).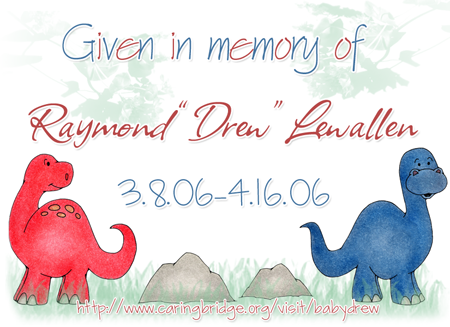 Crystal, thank you so much for creating this for me!! It's just what I had in mind.

When I have everything coordinated and set up, I will probably be soliciting donations to help with this. I hate soliciting but I really want to do something in Drew's honor to help other families. I'll keep everyone updated on my progress. Initial word is that the publisher offers SUBSTANTIAL discounts on bulk purchases. Substantial as in 40%, 45% and 50% depending on the number of copies ordered!

Actually working on something like this helps me a lot. I feel proactive; I'm not just sitting here wallowing in my grief.

I have also started working on Drew's blanket again. That's kind of hard for me to do because he will never have it himself but it's going to be beautiful when it's finished. Who knows when that will be though! I'll post pictures of my progress sometime.