I'm feeling so much better. It's amazing what a good night's sleep will do for you! I'm still depressed as hell but I can see many more positives than I could a week ago. Elizabeth and I are heading out of town tomorrow to visit Grandmama and Granddaddy (my parents) so that will be a nice mini-vacation. Just us girls! I'm really looking forward to it. We're going to get to meet another Mommy and August 2003 baby that I've been talking to for quite a while! How cool is that?!

We got some new flowers on Memorial Day and put them on Drew's grave. Grammy and Papa (Raymond's parents) also got him some beautiful flowers. I hope that Drew knows how much he was and is still loved by so many people. The cemetary was so beautiful on Memorial Day! I don't think that there was one grave that didn't have at least one or two brightly colored floral arrangements. It was really breathtaking.

Oh and before I forget, I was right...my cousin's new baby girl Jayden IS beautiful. :) I'm so happy for their family and I know that Jayden has absolutely wonderful parents--both parents and baby are blessed!

I finalized the design for Drew's headstone yesterday. But that wasn't the end of things. Raymond looked at the design and said, "Do you think we should change the picture on it?" ARGH!!! I said that over a week ago since another one close to Drew has the same angel and lamb. Luckily, Kay had told me that we could make some changes so I called her this morning and chose another graphic. One that I like even better. Here it is: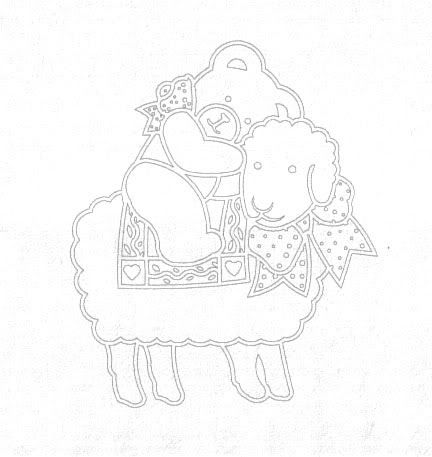 It's just so hard to come up with something really meaningful for your child's headstone. There are so many things that I want to put on it but there is limited space. :( It's going to look great though.

I've had the pleasure of meeting a lot of new people online in the past few days. One woman shared a picture with me that her son took on Easter Sunday and it just reached out to me and touched my heart.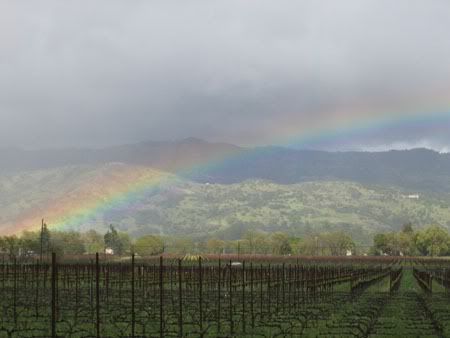 Isn't that amazing?! I like to think that Drew made that rainbow to let the world know that he's ok now and this picture was sent to me for a reason via another child. That might sound hokey but it feels right to me.

You know, I'm truly blessed to have such great friends. I don't take my friendships lightly; I'm a loner and the friends that I do have, I hold dear. I hope that they know that. :) One of those friends, Dawn, is an amazingly talented woman. Just look at some of the graphics she has made: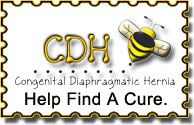 Dawn, I don't know how to thank you for this and everything else (you know what I'm talking about).

I've met so many people because of Drew. I've rekindled long lost friendships. Maybe that was part of his purpose, to help bring me out of my shell and learn how to accept help and kindness from others. I do know that I've changed in the very core of what I am because of him. Changed for the better. That was his gift to me and I cherish it. (Yeah, I'm a bit sentimental tonight.)

Elizabeth, Elizabeth, Elizabeth. Where to start with her? I just cannot get over what a HAPPY child she is. She's been throwing a lot of tantrums lately and refusing to nap but you know what? Even when I get frustrated, I secretly love every minute of it because she's HERE and she makes me feel alive. I really can't wait to see what she turns out to do with her life. Whatever it is, I know it will be spectacular! Just a walk around the neighborhood today was an adventure.

I love that she talks about Drew a lot too. We have daily discussions about him and today was the first day that she said, "I miss my Baby Drew." Of course she followed that up with, "Can we go see him?" I reminded her that Drew is dead and that means we can't see him. She told me, "I can see him, Mommy. Let's go to cemetary!" I want to be 2 years old again.

Everyone will get a kick out of this Elizabeth story. We've been working on ages like how old Pooky (cat) is, how old E. is, etc. She's got it down that she's 2. If you ask her how old Mommy is, the little toot says, as serious as can be, "Mommy's forty!" If you ask how old Daddy is, she says, "Daddy's two." How does THAT happen?! For the record, I'm 29 and Raymond's 30.

Ok, I'm off to get stuff done before we leave tomorrow.