It's good to be home! Elizabeth and I had such a nice stay with my parents. It was so nice and relaxing, just what we needed. There's nothing like basking in the love of your family to make you feel great! We talked a lot about Drew and Elizabeth had so much fun with her grandparents! It's so fun to watch your parents with your children. Watching them reaches your heart and it just swells with love. The same thing happens when I watch my in-laws with E. Elizabeth is a very lucky little girl to have 4 grandparents who love her so much. Drew is too. :) We got to see my grandma and that's always so nice. My grandma is such a neat person, strong woman and I love her a lot.

When we were in Texas we got to meet someone that we'd only known online until now. Tina, her husband and their daughter Kaylee. Kaylee is 10 days older than E. The girls were so cute together; they walked around holding hands for a while. Tina and her DH are just GREAT! I feel like I've made some real friends in them.

My friend Ivy and her daughter Bella joined us at the park. Ivy, have you had Miss Sasha yet? I think you have about 8 days until your due date! You are such a cute pregnant woman and Bella is a walking doll. I've known Ivy since we were in the 5th grade and I love her and her family dearly. Friends like that are hard to come by. I can't wait to meet Sasha. :)

Coming home to the news that JJ (Jolee) had passed away hit hard. This fucking defect is so wrong. My heart is hurting for the Scott family. There is just nothing remotely right about a child dying.

I am working on some stuff to raise awareness regarding CDH. I am going to be calling on many of my very talented friends; I hope that they don't mind! I just feel like I have to do something to bring more attention to this birth defect. It's not as though it's an extremely rare thing but the awareness is not there. That needs to change and I hope that I can help change that. I'll keep everyone updated on my plans when they become more concrete.

Look at what Shawn made for us! Simply beautiful...such talent! My two boys...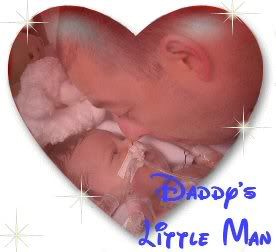 Shawn also made the angel collage with me combing Drew's hair. Words just fail me sometimes.