Had a great day with Elizabeth today. We got up, went ouside and mowed, played in her swimming pool, talked to our neighbors, went to the store, she took a nice long nap and then we hung out in the front yard. We just laid on the grass looking at the sky, the trees, butterflies, everything. She just talks, talks, talks. We blew some bubbles and she chased them all around and then she helped me cook dinner. I love days like this. :) The only thing missing is Drew. And of course Daddy who had a long day at work today.

Speaking of Drew, yesterday I really DID sign off on the final design of his headstone. It should be installed in 3-4 weeks.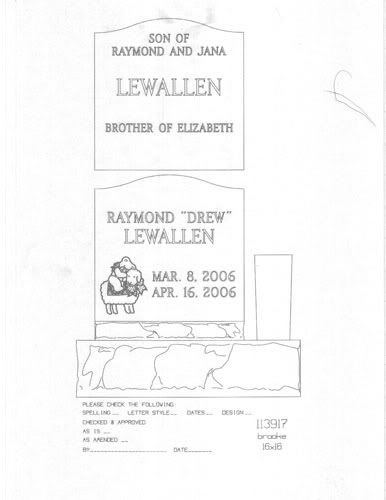 My friend Dawn who makes beautiful jewelry has a website with some CDH bracelets up. The link is Designed Treasures by Dawn. She also has some things up on ebay benefitting CDH. She's had a tremendous response from these items and is such a sweetheart to help like she is. I've been moved to tears more than once because of her. Oh and I talked to her on the phone the other day. Her daughter who is E.'s age got on the phone. It was soooooo sweet! She was saying, "I wuv you!" and answering all of my questions. What a doll!

Well, R. has a life insurance policy through his work that has a rider stating an amount for "each dependent child." He FINALLY called on it and was told that Drew would be covered because he lived over 14 days BUT there are all sorts of stipulations regarding children born with serious conditions. They're sending us the paperwork to fill out and we'll just hope that they cover Drew. I plan to fight a little bit if they initially turn us down. :D Drew couldn't even qualify for that cheap Gerber life plan because of his condition. I would advise every parent to carry life insurance on their child, hoping that you never need it.

I got word from my hospital contact that the book donation won't be as difficult as we had thought. Since OU Medical Center is a for-profit organization, there are lots of rules governing gifts. Thankfully, none of those rules will apply to us if we purchase the books to give to other families. It's not a gift TO the hospital so all we have to do is buy them and drop them off. :) I'll have more information on that as I work everything out.

I hope that you have all been keeping up with the other CDH babies I have links to. Sofia may be going home in a few days!!! Audrey is just flying high and doing great. Jackson's progressing a bit more slowly but he IS showing great progress. I've had the pleasure of corresponding with Emel and Aytekin. They live in Turkey and are expecting Baby Mert. They are such a sweet, wonderful couple, please keep them in your thoughts and prayers. I have so many links to CDH babies. I really urge you to read about every child.

Ok, so I can't go without another cute Elizabeth story. When we were at my parents house this past weekend, E. was sitting on the kitchen counter while my mother was cooking dinner. The child just cannot be still. So she was wiggling all over the place and my mom asked her, "Are you antsy?!" Elizabeth looked at her and very seriously said, "No, I'm BUGGIE." (Her nickname is Bug/Buggie as in cute as a bug.) I think my mother and I just about fell down we were laughing so hard. E. started laughing too but she didn't have a clue why she was laughing.