A lot has been going on around here, I guess. We spent Labor Day (5 days) camping at a nearby lake with my in-laws. R.'s brother and sister and their families were there too, including 3 of E.'s cousins. It was nice except that I was sick the entire time. I still managed to have a good time though. I didn't get to go out on the boat very much because I was afraid that it would make me throw up but E. went and had a good time. She had a blast playing with her cousins--they're sweet kids. Five days was long enough though; it was good to get home and back to all of its comforts (I have a major phobia about public showers, MAJOR).

Tomorrow, E. and I are off to TX to pick up our cow. :D Together with my in-laws, we had one slaughtered and processed out in TX so I'm going to go pick up all of the meat. (Sorry to offend any vegetarians out there but we're big beef eaters--Texans born and raised). So the freezer we got to store my breast milk will go to good use storing half of a cow. Yummy black angus cow. Now I'm hungry for a steak!

E. started "school" one day a week. I went to register her last Thursday and she decided that she wanted to stay for the day so I left her. She took a nap and everything. I really like her teacher and the small class size. It's really a Mother's Day Out program but she takes her naptime mat and backpack so to her, it's school. It makes her feel like a big girl. :) Makes me sad. This morning when I dropped her off, she didn't want to go. She cried and said, "I don't wanna go in, Mommy! Stay with me, Mommy!" I drove away in tears but she calmed down within 2 minutes of me leaving. (Yes, I called to check on her!) The teachers get them out of your car so no parents can linger--it makes it easier on everyone. She's growing up too fast. Right now she's in the 2-3 year old class but her teacher seems to think that she'll move up to the pre-K class before too long. I don't know about that, though. Something to think about (she IS exceptionally bright, hehe!) but I still think she needs to be in the younger class for a while. On her first daily report, the teacher wrote that E. is a very sweet girl. :)

We have a meeting of our homeowner's association this evening at the local elementary school. I'm MAD. We approved a LARGE rate increase to hire a lawyer to try and stop a 3-story apartment complex being built right next to the school and it seems the agreement they've reached says that it wll be 2-stories, brick exterior, and a brick wall between the complex and the school. The plan was to stop the building, not concede. I do not like the idea of 500-1000 units going in next door to an elementary school. Part of the reason we chose this house was because it is 2 blocks from the school, in a GREAT school district, and E. could walk to school (with me, of course). I'm sure there's going to be a lot of outrage at tonight's meeting. I know that four neighbors around us are as upset as I am. Oh the drama of suburban life. :D

Now to the reason I'm pleased. I received a telephone call yesterday morning that made my day. It made me happy and distressed at the same time. Kay called and told me that Drew's headstone was installed. Completely done. So E. and I rushed over there, of course. I was behind some slow person who didn't know how to drive and I was getting very angry because I just wanted to get there and see it. E. was in the backseat yelling, "GO CAR! You're too SLOW!!" My little backseat driver! We eventually got there and I just started crying. It's so beautiful and just what we wanted--simple. E. decided to take her shorts off before she could go "see" Baby Drew for some reason. She was holding the flowers to put in his vase but planted them in the ground next to it! They were the only vase ready flowers that I had on-hand at home so they're a bit out-of-season but I'll get some new ones later today or tomorrow. I just sat in front of his headstone and cried for about 20 minutes. E. was pretty good; she likes to look at all of the things people leave for the babies. She loves the windmills! She wants to take Baby Drew a balloon and I told her that she could pick one out for him and we'd leave it there. I can't tell you the happiness I felt when I took up the temporary grave marker and threw it in the car. Drew now has a fitting tribute. Rest in peace, my Buddy Boy. We love you and miss you so much.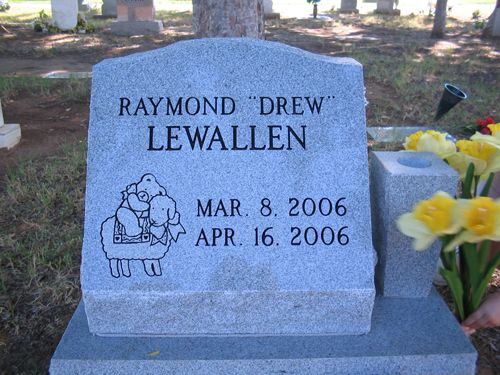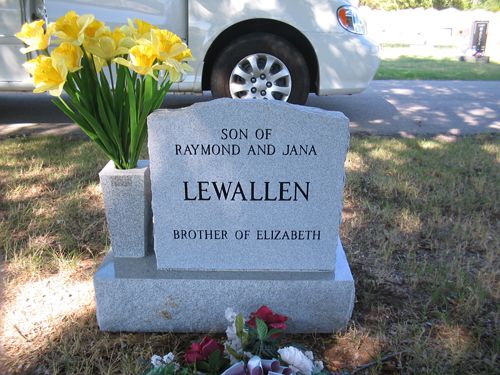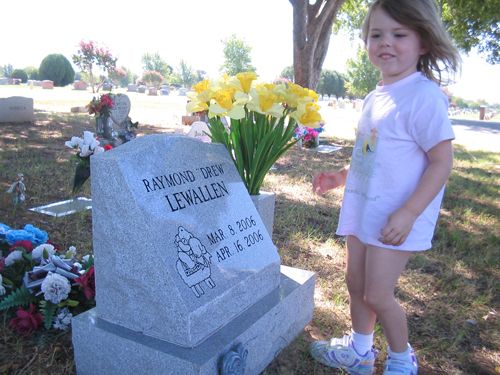 E. kissed Drew's headstone before we left.