I'm trying to catch up on things while the hubby is out being a manly-man (hunting) and the kid is asleep. I've said in past posts that I'll post picture of some stuff but haven't gotten around to it so now's the time.

This is what my friend Crystal sent to us:




Isn't that the greatest?! I love it so much, especially because it honors both of my babies! I cannot say enough about how much I love this. Crystal, thank you so much.

Now for what my Mom and Grandma did to what was E.'s room, then the playroom and now E.'s room again. (Kid has decided that she wants to sleep in there again because she loves the animals but she gets up and finds me in the middle of the night!) It's still really the playroom because most of the toys are in there and I moved E.'s stuff out of her closet and her dresser across the hall to Drew's/Carson's room.




Anyway, my Mom is extremely crafty. I haven't found anything that she can't do yet. My Grandma is quite simply an amazing artist. Most of the animals are in the same style as E.'s little table and chairs that my Mom made for her on her first b-day. E. REALLY wanted a "scarlet tacaw" (scarlet macaw) so Grandma painted her an awesome one! It's my favorite part of the entire thing. Elizabeth told them what animals she wanted and they made them happen.

I did do a bit myself (haha!). I stenciled their names on and painted the clouds. I also sealed the paint on the wall! Who says my kids are spoiled?! Nah, just very loved.

And I did send out a few holiday cards this year but not as many as I usually do. I'm just not into things this year (for obvious reasons). I want to share our holiday card with all of you, our friends who have given us such love and support throughout everything.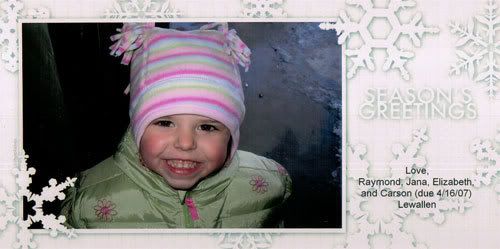 I couldn't get myself geared up to take a special picture for the cards so this is E. before playing in her first snowfall!

And here's the letter that I included. I tried not to be too depressing; R. helped with that--he edited me. :)

Friends and family~

I hope that you have all had a wonderful year. I know that we all have much to be thankful for this holiday season. I have not been good about keeping in touch this past year but trust that all is well with you.

On December 21, Raymond and I will celebrate our 10th wedding anniversary. That's quite a milestone! Ten years and three children later, we are still here.

We are still in Edmond, Oklahoma, and I doubt that we will move from this area. Raymond's job is going well and we have ties to keep us here now. I am still a stay-at-home mommy and enjoy it most of the time! We have made the majority of our memories here and it's a nice place to live.

As most of you know, our second child, a son named Drew, was born March 8 of this year. He was such a sweet little boy with quite a fighting spirit. Drew lived 5 weeks and 4 days and touched many lives in his short time. He passed away on Easter Sunday, April 16. We miss him terribly every day. If you would like to see photos of him, they can be found at http://allaboutbabydrew.blogspot.com.

On the heels of our great loss comes a great blessing. About 4 months after Drew's passing, we discovered that we are expecting another child. This child was quite a surprise and meant to be. My due date is April 16, 2007—the one year anniversary of Drew's death. We recently found out that our new child is a boy and he will be named Carson Grant Lewallen. We have had two ultrasounds so far and everything is looking good with Mr. Carson!

Elizabeth is thriving. She is quite a little character! She has managed to help keep our house a happy place. Elizabeth spent a lot of time with Drew and talks about him often. She is now 3 years old and so happy and perceptive. She is spoiled rotten by just about everyone who meets her, especially all of her grandparents! She is growing up much too fast for my liking but what can you do?! She is very excited to be having another baby brother although she initially really wanted a sister. Elizabeth is going to be such a wonderful big sister. A few of her favorite activities are fishing, playing in our backyard with Molly, watching the movie "Cars," anything having to do with Nemo, petting Sue the horse and playing Elmo on the computer with her Granddaddy.

Well, that has been our year in quick review. We are hoping for a happier 2007. We hope that you all have a blessed holiday season and new year.

Love,
Raymond, Jana, Elizabeth and Baby Carson (due April 16, 2007)

Speaking of E., I updated her website last night. Check it out here.

I'm working on my birth plan for Carson's arrival. I didn't do one with E. because I was clueless. With Drew, I was not in control of any aspect of my labor or his birth and I'm still pissed off about that. I should have listened to *my* instincts rather than doing what the doctors told me to do. This time, I'm going to have the birth experience that *I* want. If anyone has ever made one and has any suggestions, I'm all ears. I basically follow the AP (attachment parenting) philosophy: breastfeeding, babywearing, cosleeping, etc. I have a draft but I need to pare it down to one page. *Ugh* (As you all know, I can go on and on and on...)

And with that, I've gone on long enough tonight.