Well, I waited to post until most of the day was gone. Today was Drew's first birthday. It was a very difficult day for me but there were some laughs thanks to his big sister (she made "squishies" in the backyard--that means a mud pit and she was covered from head to toe). She also informed me that it was NOT Drew's birthday today, it was Carson's. And, "I'm NOT going to say happy birthday to Drew." :( I have a theory on why she said that but it's not imporatant to anyone but us.

I took her to school this morning, went into my FIL's office and worked for a bit and then went to the cemetery. It was nice to go by myself and not have to worry about E. switching the flowers on the graves or remain strapped in the car crying to get out. It was a perfectly beautiful day, low to no wind, temp. in the 70s.

Damn birds had crapped all over Drew's headstone so I cleaned it and put out the flowers that I got for him. They're not exactly blue hydrangea, more of a purplish/blue but the blue ones were a garish blue. Not like the beautiful ones on his casket. I couldn't find any in that shade. :( I also put in some lillies (did I spell that right?).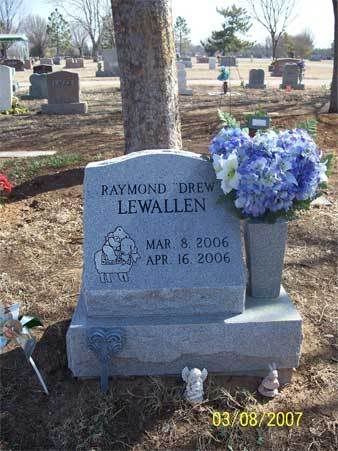 Then I'm looking at the back of his stone (cleaning the bird feces off of it) and made a note to call our headstone company. We will be adding Carson's name under Elizabeth's but I'm afraid to do it before he's born. I've become rather superstitious in the past year. Anyway, here's the back, imagine it saying "and Carson."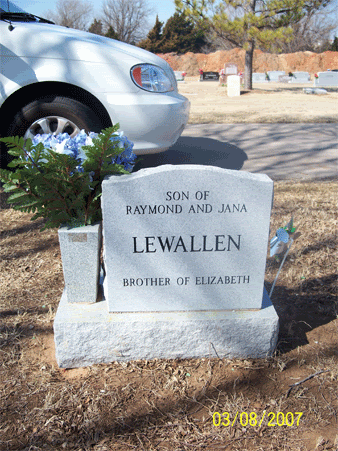 E. and I baked cupcakes yesterday for Drew's b-day. She chose everything except the icing (Mommy wanted, no NEEDED, chocolate) so it was a "Cars" theme. Just like her Daddy's birthday cupcakes were. Here they are and they are yummy, I wish that Drew could taste them.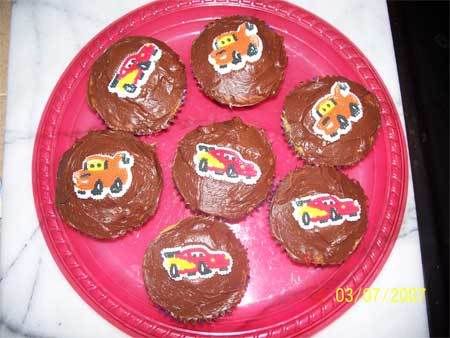 Today was full of memories for me. I remember almost every single small detail of Drew's birth and immediate aftermath and it really came back to me today. It was like a punch in the gut at times. Here goes the reminicising, feel free to skip it, I've written all of it before. Speaking of, I read all of my old blog entries last night--big mistake. Things that I had "forgotten" came flooding back in wave after unpleasant wave. But there were also good memories and those are the ones that I hang onto.
-----------
I remember a house full of grandparents and a very active E. on March 7, 2006. I remember taking some time to bathe and reflect on my pregnancy. I remember heading for the hospital with Raymond at about 11:20 p.m. I remember that I could not get my darn driver's license out of the clear pocket for the lady to make a copy of it. I have not kept it in that place since then.

I remember feeling faint and vomiting while 2 nurses were trying to insert an IV. I remember R. telling me that I got even MORE pale, as if that was possible. I remember contractions coming and trying to sleep. I heard the door open around 3 a.m. and later found out it was my FIL; I figured that it was a nurse peeking in.

I remember liking my overnight nurse ok. She told me to disconnect the fetal monitor and go pee when I needed to do so. I remember my morning nurse was a total bitch (name of Amber, I remember that too) who jumped on me when I disconnected to go pee. She informed me that I HAD to use a bedpan. I remember thanking G-d that my husband is such a damn good guy because he had to hold and dump that damn bedpan. That's an event that unites you for life if nothing else does.

I remember E. coming in to see me and making me smile. She climbed up on the bed with me and loved on me. I remember telling R. that my parents could come back but that no one else could. I wanted them to know that I was ok, I know what it's like to worry about your kid. I remember stadol and seeing multiples of things, like my husband. I think that I told him that he was very handsome. :)

I remember my doctor arriving to check me and break my water. When my water broke, I remember soaking a dozen towels laid underneath me and the fluid going onto the floor. That polyhydraminos (excess amniotic fluid) makes a difference. :) I remember, mid-contraction, the doctor doing an exam. That's the worst time to do one, for the record. I remember shaking my head and saying, "No, no, no..." and trying to squeeze my legs shut. I remember what felt like an entire hand and forearm inside of me. I remember thinking, "Is this fucking necessary?!"

I remember just sobbing and R. coming back into the room to find me a mess. He found a wife requesting a c-section because of the way she was being manhandled. I think we all know how I feel about sections--I did NOT want one so things must have been very bad for me to request one. He questioned me pretty closely before going to tell the nurse that I had decided on a section.

After hearing that decision, I remember being treated much better by Nurse Bitch.

I remember being wheeled to the OR, crying the entire time. I remember getting my spinal while 17 (I counted) people prepared things and talked about what to do on the weekend while my ass was hanging out of the back of my gown and I was receiving multiple shots in the spine. I remember that they wouldn't let R. be there for that or for quite a while afterwards and it upsetting me.

I remember R.'s blue alien "suit," and them finally ushering him in after or during the first cut. I remember hearing, "This is the most perfect umbilical cord that I've ever seen," and "He DOES have a big head."

Most of all, I remember being more terrified than I ever have in my life. Absolute terror.

I remember 2 very, very wheezy weak cries from Drew and R. saying, "Oh my G-d, he's purple." I remember that I never got to see him in the OR. I remember a doctor pulling R. out into the hall to talk to him and getting pissed off. I wanted to know what in the hell was going on and they wouldn't talk about my son in front of me, I couldn't feel anything from the mid-chest down much less walk, the doctors were stitching me up and talking about golf. The room had quickly emptied--the only people left were 2 doctors stitching, anestheologist (sp?), nurse and me.

I remember R. coming back in with tears in his eyes saying, "It doesn't look good, Jana." I told him to follow the baby but he couldn't. I remember finally getting back to my room and having some time alone (much needed) while R. updated everyone in the waiting room.

Then unexpectedly, my door opened and Bonnie (nurse) and the flight nurse wheeled in Drew. I remember losing it and trying to get to him. I remember Bonnie giving me my "mommy cloth" to get my scent on to keep with Drew.

I remember finally touching his little hand and being shocked at the ET tube and vent. I told him that I loved him so much and he tried to turn his head toward me but he couldn't quite make it. I remember that he opened his eyes and looked directly into mine. That's when I vowed to protect him with all of my being. (Something which I failed at.) Then they took him away to ride in the helicopter.

I remember R. coming into my room not 2 miniutes later and me telling him that Drew had been there. He was upset that he missed him. I was moved to another room and was in a wheelchair as soon as I could be and had R. wheel me over to Children's so that we could see Drew.

I remember seeing him, so vulnerable, in his bed and starting to sob again. I forced my body out of the chair, pain be damned, and went to him. I remember Bonnie telling us that he was reacting badly to light, sound and touch. That it was best if we limited our touching or did not touch him at all. I remember how hearing that I shouldn't touch my child ripped my heart out and broke it into pieces. I remember seeing the first chest x-ray up on the wall and seeing little to no left lung and a small right lung.

I remember R. telling the grandparents that no one was going to be seeing Drew that day due to his sensitivities. I don't know if it made anyone mad and didn't really care. We were protecting our son, everyone else be damned. (I feel confident in saying there are no hard feelings about this now.)

I remember forgetting the camera every time I went down to see Drew the day he was born so I have no pictures of his first day of life.

I remember being alone in my room and one of the neonatologist residents coming in and explaining to me about chest tubes and PICC lines and that I needed to sign consent forms for them. I did so. I remember not being able to find anything to control my c-section pain due to an allergy that I have. I remember surviving on no sleep and telling R. that he didn't need to stay in the room with me because I couldn't sleep, had to pump and his bed was uncomfortable.

Most of all, the terror is what I remember. Terror throughout Drew's short life but I never felt the fear like I did the day he was born because so much was unknown. I hope that I never feel fear like that again. And I felt overwhelming love for my son, my perfect baby boy.

Happy birthday, my baby. I love you so very much and miss you like crazy.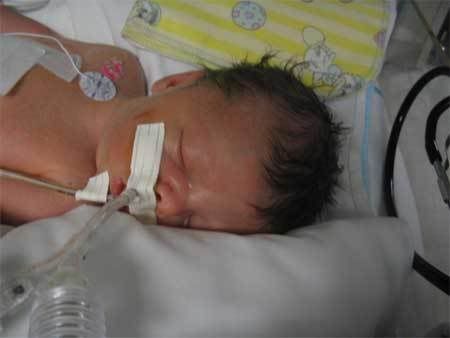 March 9, 2006