It's going to get long. But if you keep going, you'll get to see pictures at the bottom so there's some motivation for you!

Raymond just came upstairs and informed me that he needs to know when Carson is going to be born. Uh, yeah, I'd like to know that too. Seems as though he took my "place your bets" post literally--there's a betting pool among his friends. He told me it would have really helped if I'd been checked on Monday. Dork. He's picked the 19th; I hope that he doesn't win because that's too long away for me. I told him that I was going to walk up and down the stairs all day tomorrow and he informed me that I could not do that. I HAD to wait until the 19th. :D

That was a moment of clairty for me. My dad keeps asking when Carson is going to arrive. The "excuse" has to do with possibly rearranging doctor appointments and trying to plan for travel out here. Uh-huh. I called him and teased him about having a betting pool himself and that's his REAL motivation. (It's not, but I had to poke at him a bit.) Now he has the idea to start a pool tomorrow. :)

Elizabeth pulled up my shirt this evening and just started hugging my belly. She told me that she's ready for Carson to come out. I told her that I was too and that she'd better tell him to come out. She yelled right at my belly, "Carson, come out of there tonight!!" Then Carson started going crazy. My daughter's a pretty cool kid, if I do say so myself. She's even offered to save her light-up Disney Princess shoes for poor little Carson. And all of the clothes that she's outgrown.

I called my mom one day last week and before I could get a complete sentence out, I thought that she was in her car on her way here. She interrupted me and asked, "Is it time?!" This after the previous week when she called R. to see if I was in labor because I didn't call her when she expected me to do so. My appointments are generally in the morning but that one was in the afternoon so she thought I might be in labor. Nope, no such luck. I told her that Raymond would be the one calling when it was time and it would be after I was admitted to the hospital so they wouldn't have to start out on a needless trip. It's funny how excited everyone is. Drew's death has just increased the excitement over Carson in many cases and it's cute.

I've said this every pregnancy but Disney is evil. Their movies are not good to watch late in pregnancy. With E., it was "Lilo and Stitch." That movie made me SOB. With Drew, it was "Bambi." With this one, it's "The Fox and the Hound." It was on the other day and, thanks to my MIL (thanks, Judy!), E. loves that movie and had to watch it--twice. My 3 year old was comforting me because I was crying so hard. I even cried during "Cars" and I'm still not real sure why. Just a warning--stay away from Disney movies when hormones are going wild.

Speaking of E., since I do all the time, she's a little trooper. She's just the right height for my belly to hit her smack in the head. Everytime I turn around, WHAM! Right in the head. She's even been knocked down by it a few times. Luckily, this cracks her up every single time. It happens multiple times a day because she follows me around closely "helping" with chores and whatnot. It's quite amusing.

Marshall's mom, Laurie, has shared some great news--she and her hubby are expecting again!! This is such great news as they've lost 2 sons; Murphy, their daughter, is healthy and adorable. All of the testing so far shows that this baby does not have SMA, the genetic issue that took Marshall's life. I am so happy for their family; when I found out, I just cried. (I do that a lot now but this was for such a different reason.) I ask that everyone keep Laurie and her family in your thoughts. She's a wonderful woman. She sent me this poem the other day as it applies to both of our situations and it touched me so much. I want to share it here for my other friends who it may apply to as well:

A Different Child
poem by Pandora MacMillian

People notice
There's a special glow around you.

You grow
Surrounded by love,
Never doubting you are wanted;
Only look at the pride and joy
In your mother and father's eyes.

And if sometimes
Between the smiles
There's a trace of tears,
One day
You'll understand.

You'll understand
There was once another child
A different child
Who was in their hopes and dreams.

That child will never outgrow the baby clothes
That child will never keep them up at night
In fact, that child will never be any trouble at all.

Except sometimes, in a silent moment,
When mother and father miss so much
That different child.

May hope and love wrap you warmly
And may you learn the lesson forever
How infinitely precious
How infinitely fragile
Is this life on earth.

One day, as a young man or woman
You may see another mother's tears
Another father's silent grief
Then you, and you alone
Will understand
And offer the greatest comfort.

When all hope seems lost,
You will tell them
With great compassion,
"I know how you feel.
I'm only here
Because my mother tried again."

And because I love to share E. stories, here's another one. Our angel fish were laying eggs last weekend. A LOT of eggs. This kicked off a discussion where I told E. that she had eggs and that she was born with them. She told me, "I know that, Mommy. I have eggs in my FEET!" complete with her lifting her feet to show me. I was laughing too hard to correct her at that point. The OB has a great picture book though and she now knows about ovaries, fallopian tubes, the uterus, cervix and vagina (she's known about that one for a while, much to her father's dismay!). She knows if the egg does not make a baby, you bleed once a month. I tell you this to demonstrate how darn smart she is. If you're ever around her, be prepared to receive a lecture on the female reproductive system, all thanks to our angel fish. By the way, the fish ate the eggs which is good, we didn't want a million new fish.

Thank you to everyone for your kind messages on Easter. I feel like I do pretty good most of the time but Easter was really hard on me. It was on par with Drew's birthday and I'm really not looking forward to Monday (the 16th). My due date is the one day that I do NOT want Carson to be born on. It's going to be difficult enough for him to know that he was born so close to Drew's death but for it to be the exact day--I don't know how to handle that. I really don't and I don't want to know how to handle it. R. would probably say that I'm overanalyzing things and he's probably correct; I tend to do that but I just can't help it.

And now for the promised pictures, taken 2 days before I was 38 weeks. Can you imagine that this is the first pregnancy that I have not gotten one new stretch mark? With E., I got very few on my thighs. With Drew, they all appeared overnight--no kidding. My belly looked like a roadmap and has not had time to fade as of yet so it's not that pretty but here they are; our little family.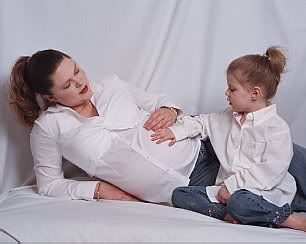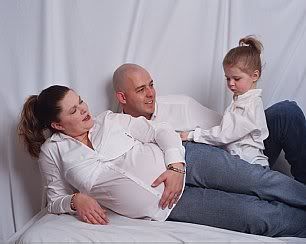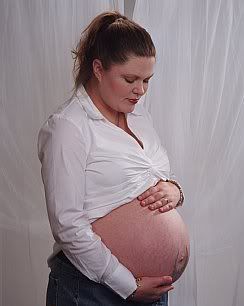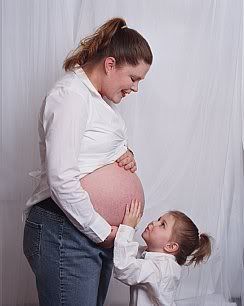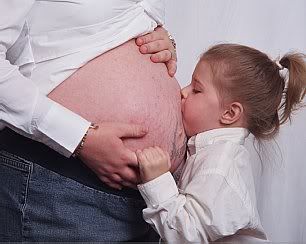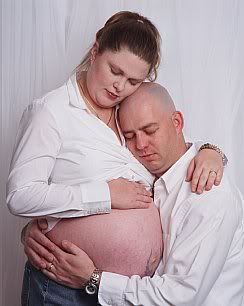 Until next time.