Since I'm too lazy and things are too crazy around here for me to fully update the kids' website, I'm going to post some pictures here. Because I know that everyone wants to see them!

Some more of Carson's 6 month pictures: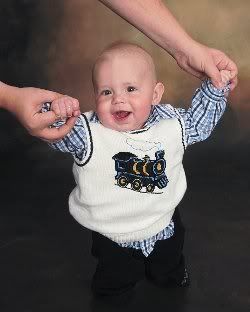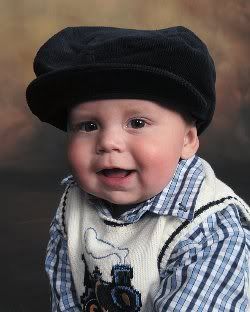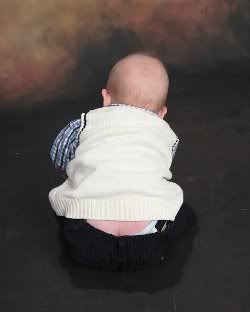 There's a ton more but I won't bore you with them. You must admit though, that he's such a little doll baby, right?!

So I started Carson on solid food before I had planned. My clue was when he grabbed my food out of my hand when I was looking the other way and shoved it in his mouth. Um, yeah, he loves his food! He still loves his nursies more though (yay!).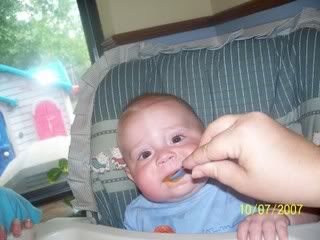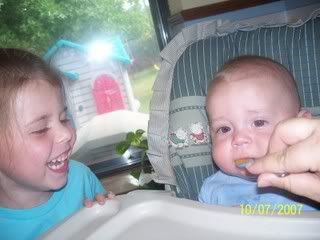 The kids at the park: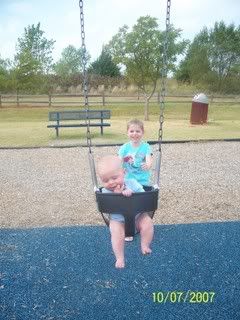 Some pics from Texas; a fun game of "find the real kid":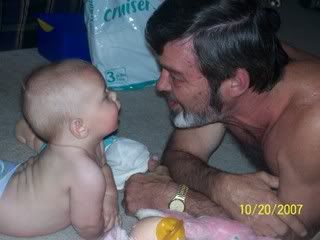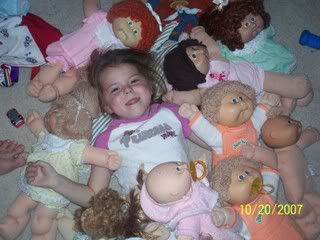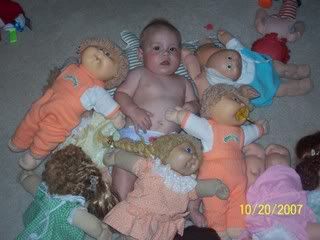 I just like this picture, even though he's got his paci in his mouth. He was happy just chillin' on Daddy's lap.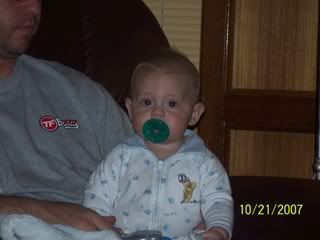 Here's my little Ariel and Sebastian on Halloween.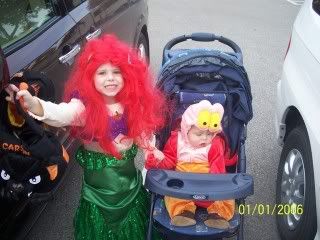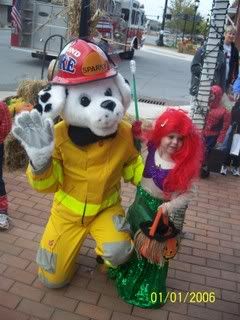 Last Saturday was Elizabeth's last soccer game. It was a great season even if she preferred to run in circles, off in her own little world, during the games. Child did great in practice and before the games in warm-up but when the game started, she usually just went to what I call "Elizabeth world." Her coach started calling her "Ariel" just to get her to pay attention. Yep, that's my girl! Oh yeah, if you'd like to see a picture that I took as "Picture of the Week," go here and scroll down.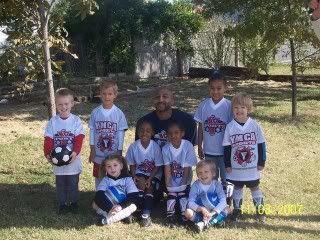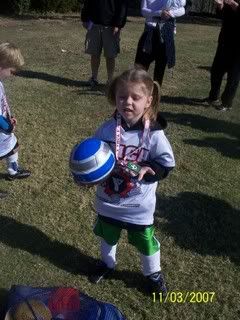 Elizabeth is quite the little photographer; she took this picture of me and Carson--she's taken a lot of surprisingly good pictures!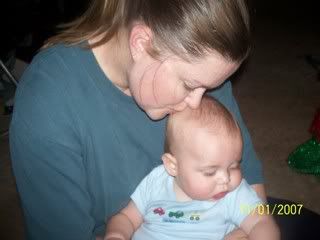 I'm working on an entire new look for A Rainbow of Hope. I hope to have it finished and up in a couple of weeks but life seems to keep interfering. Typical.

And I've officially lost my mind. No, truly I have. I had the idea to invite my family and Raymond's to our house on Thanksgiving Day. Because I'm not traveling. I'm just not going to do it. The crazy part isn't that I invited everyone, that will be nice and the kids AND grandparents will be in heaven with one another, the crazy part is that I don't really cook. I can and I do sometimes when the urge strikes me but Raymond's a better cook. Much. He's always been the one to cook our turkey and he will again this year. :D In other words, I volunteered him to make a full spread without discussing it with him. And he didn't even raise an eyebrow when I told him what I'd done. THAT'S a good man. (For the record, I will make an effort to cook or at least help if R. will let me.) It's worth it if we don't have to drag ourselves and 2 kids all over the place.

I think that I've got all of the Christmas shopping done for Elizabeth. Just have to pick up the Santa gift. I still need to get Big C a few things but I'm glad that I'm almost done. I'm not like my husband who cannot make plans and waits until the last minute to shop. Drives me freaking INSANE. Gotta love the good and the bad though, right? If that's my biggest complaint then I'm fortunate I suppose. Elizabeth thinks it's cool that, even though Drew is dead, Santa still remembers him and puts stuff in his stocking (the Make A Wish ornament)--she's been very inquisitive lately about Drew. That's a good thing, IMO. Smart kid; she's always telling me that Drew is in her heart and that she misses him. :)

On that note, have a great week. We're off to Texas this weekend for a scholarship dinner in honor of the daughter of some family friends.