There are some truly wonderful people out there who have made things for us or gotten us things in memory of Drew. I hope that each and every person knows how much these gestures mean to us. I want to share pictures of many of the things that people have done for us. I feel that these amazing people should get the recognition that they deserve. :-)

This is from a wonderful group of women that I post with on a message board. We all have babies born in or around August 2003 and I've "known" most of them since we were all pregnant with our August babies. They sent me a beautiful mother's bracelet with Elizabeth and Drew's name on it. They also sent Elizabeth one with her nickname "Ellie Bug" on it. They're the ones that also supplied my baby girl with her Nemo gear, making for a VERY happy little lady.






One of the women on the board mentioned above belongs to another board of women that I have not had the pleasure of meeting. They were all keeping up with Drew's story and have just blown me away with everything--they made a small quilt for Drew to keep in his isolette and they sent a huge box of art supplies and Nemo stuff to Elizabeth who is in heaven! And this amazing quilt arrived the other day: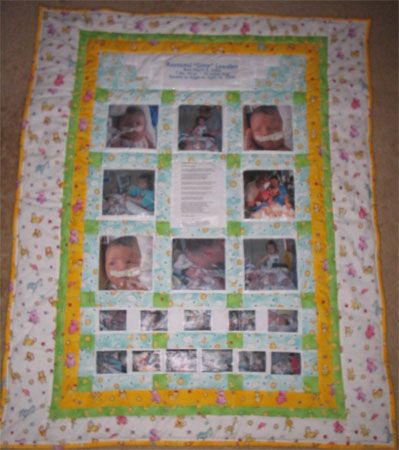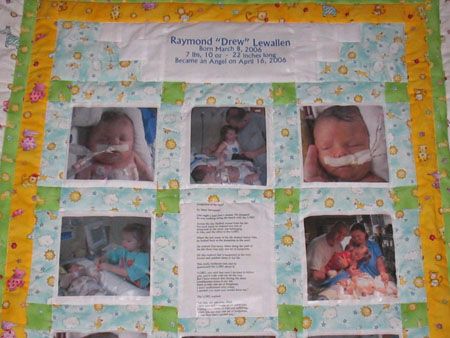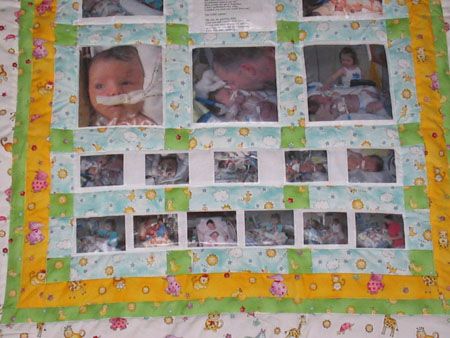 I belong to another board for August 2003 moms (hey, I like to "talk!") who I've become very close to over the past couple of years. They all got together and sent me a lovely necklace before Drew's birth and the Japanese red leaf maple tree that I mentioned in an earlier post. No pictures of the tree yet, it's been to wet to plant it. But yesterday, this came for us to put with the tree: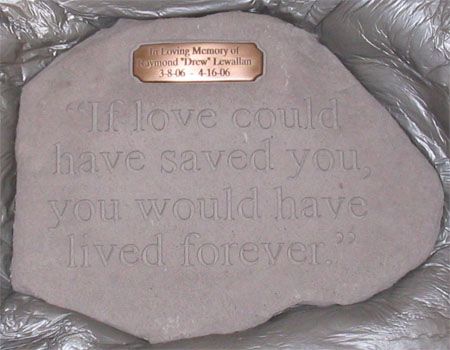 All of this and not to mention all of the cards and kind words we have received from all over the place. I've found great comfort in the cards that people have sent us. There are nights I sit and bed and re-read all of them, drawing comfort from them.

We've made it to one monument place so far. We went by 2 more today but they were closed. This is the design that we came up with at the one place: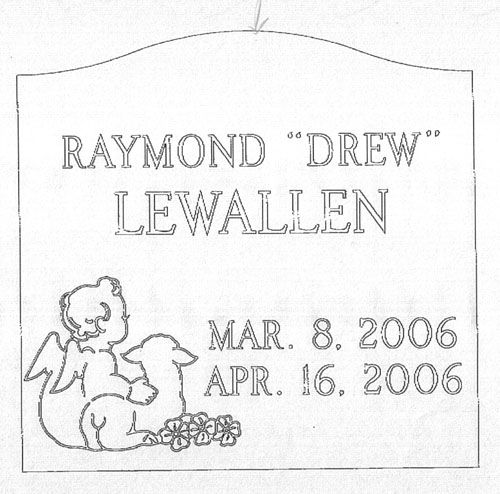 We chose the angel with the lamb because Drew was buried with his white stuffed lamb, Winky. On the back of the stone it will say, "Son of Raymond and Jana," and under that, "Brother of Elizabeth." If we have another child in the future, their name can be added. We like the design, shape (wedge shaped with a base and vase) and granite color (gray Georgia granite) so now we're just price shopping. :D These things are pretty darn expensive.