So I want to start out with some good news. GREAT news, actually. Baby Jackson is home now. I'm so happy for Kimberly, Adam and Jackson! Jackson was born a few days before Drew and they followed basically the same path until Drew's downturn and death. It's good to see that Jackson has done so much better. He's such a handsome little guy. E. and I need to make a trip to the DFW area soon to meet all of our CDH friends (many seem to live there) and see some family.

Now for an update on Sasha. Sasha is my good friend's new baby girl who has been having some issues. Surgery was done last Wednesday and *appears* to have gone well, although they won't know for sure for about 6-8 weeks. My mother was able to visit Sasha, Ivy and Brandon in the NICU in Lubbock. She said that Sasha is even more petite and beautiful than in her pictures! The surgery seems to be a temporary fix until an organ transplant can be done (if necessary), from what I understand. Having been in a similar situation with Drew, my heart is breaking for Ivy and Brandon and the rest of their family (who I've known FOREVER!). Please keep Sasha and her family in your thoughts and prayers. This family deserves nothing but a positive outcome. They are truly wonderful people.

My birthday was nice. Raymond took the afternoon off of work and we took E. to lunch and then to a play area. We just kind of hung out together as a family which is the perfect gift.

One of my friends, Emily, is getting married this month! Congratulations Emily!! Elizabeth and I plan on being at the wedding.

On Saturday, there was a get together at Raymond's grandparents house. I couldn't go. E. and R. went and had a good time but I just can't do large family gatherings at this point. Someone is either pregnant or has a newborn and there are sympathetic looks, etc. that I just can't deal with right now. I apologize to the family for not being able to be there but I don't know what to say except that I just can't do it right now. R.'s cousin is expecting a baby in September and I got an invitation to her baby shower. I'm so happy for her and her husband, they will be wonderful parents. But I just can't go. I can't go due to my mental state and it's the same day as E.'s birthday party. I will send a gift but I can't celebrate the birth of a child right now. If that makes me a horrible person, then it does.

Speaking of E.'s birthday party, I think I've got just about everything lined up. Cake, balloons, location, decorations and invitations. Guess what the theme will be?! It's not hard to guess, it's NEMO. :D I'm not sure she deserves a party with the way she's been acting lately. I know that it's the age but damn, she's a TERROR most of the time (95%). The remaining time (5%), she is still our sweet little girl ready with lots of hugs and kisses and, "I love you(s)!" That's what keeps me from losing my sanity. I hope that I do ok at her party. Drew would have been almost 6 months old when it rolls around. :(

Tuesday afternoon, E. was up in her room spending her naptime/quiet time alone and over the monitor I heard, "Baby brudder, baby brudder..." over and over. I felt like crying and went upstairs to be with her. That didn't last long as she started kicking and hitting. *sigh* The joys of toddlerhood.

The master bath is still all messed up. It's going to take a while for it to be pretty again. R. has been working hard on it though. I'm glad that he's so handy. He taught himself how to lay tile when I wanted the kitchen and laundry areas tiled so... :D He's a good guy.

Yesterday I spoke to the monument company regarding Drew's headstone. I was getting a bit upset because it should have been on Drew's grave by the middle of July at the latest from the last I heard. The cemetery has had the foundation poured since at least July 4. It looks horrible right now; just a concrete block in the ground at the head of his grave. When I called, my contact said that she had called the artists the previous day and would get back to me. I guess what happened is the base that they ordered didn't match the granite of the actual stone perfectly so they had to reorder the base. I told her that was not a problem but I would have appreciated someone letting us know that because this is a very important tribute to our son. Hopefully, everything should be done in about a week and it should be placed at his grave. I'm just waiting for the call. :)

Oh, and sadly, both Nemo's have passed away. E. got a new goldfish last week she named Baby Nemo (smaller than Nemo #1) so now both are gone. They died within 5 minutes of one another. Strange. No great loss. R. is thinking that the sooner these fish die, the better because I guess we are going to attempt a saltwater aquarium with only 3 or 4 fish. Eh, who knows? All I know is that E. is still enchanted with them and that's all that matters!

Nemo casualty #1: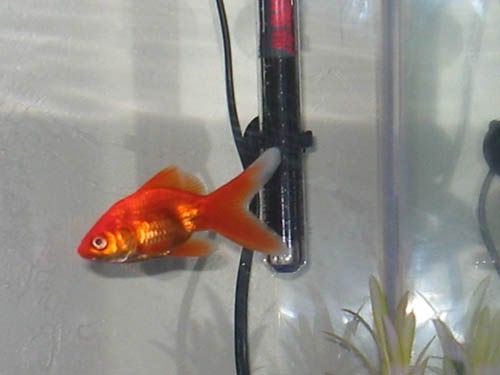 Now for some pictures. I finally got the nameplate things and mounted Drew's hand and feet molds. Here they are: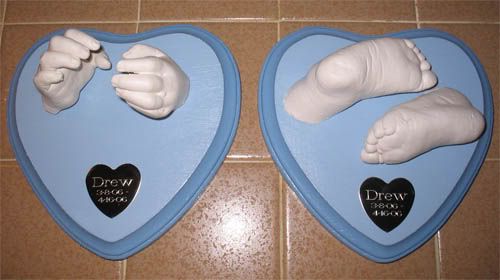 My friend Dawn sent me this CDH awareness bracelet and cell phone thing. I LOVE them and get a lot of comments on them: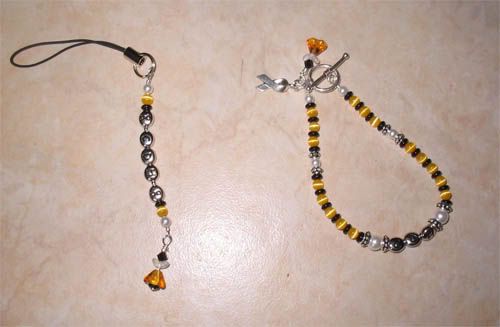 Another friend Lissette sent me this beautiful picture frame with a poem and a gift basket full of rosemary things. I don't know if you can see it in the picture but she had "Buddy Boy" put under Drew's name. And if you don't know the significance of rosemary as it relates to death, I encourage you to read up on it. It's very interesting and something that I did not know.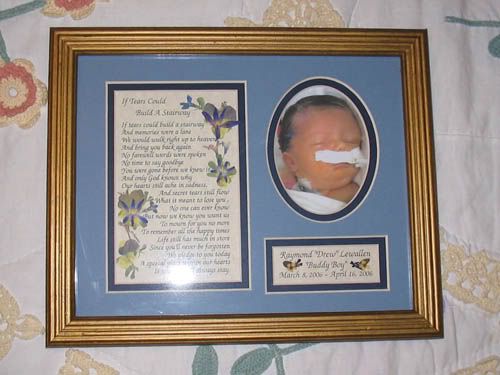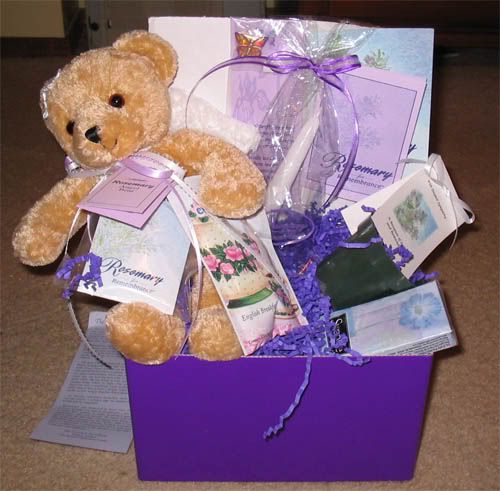 And finally, my friend Shawna made this for me. Isn't it beautiful?!