OKC Walk to Remember at OU Medical Center

Mark your calenders, it's that time again. The annual Walk to Remember is coming up in October. It is a nice gathering for those who have lost children, their families and friends. There is usually a speaker or two and then a walk around the pond culminating with the tossing of stones into the pond in remembrance of our loved ones. It was really nice last year. I was pregnant with Carson last time and now he gets to participate. It's things like this that are so bittersweet for me--I still struggle with reconciling my joy about Carson with my grief over losing Drew. I guess I will my entire life.

Anyway, you're all invited to walk with us if your in the area! I'm going to try and make up some new shirts with Drew's picture on them. I'm really missing him a lot lately.

October is infant loss awareness month so I urge you all to remember all of the families who are no longer complete due to the loss of one or more members.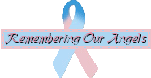 That's all for now, more to come later.