The Walk to Remember was today. It was nice; if the wind had not been blowing so much, it wouldn't have felt as cool as it did! It seems as though there were fewer people this year than last year. I'm so glad that Raymond was able to go this year too! I think that he enjoyed remembering Drew with everyone else. I have an amazing story to tell about something that happened there but I'll get to that later.

Drew's grandparents, Raymond's parents, were not able to make it as my FIL was ill. But they were there in spirit! We didn't actually do the walk because E. had a soccer game and we didn't want to be late and my mom has a foot issue. But we did throw our stones in the pond and remember Drew. I didn't sob like I did last year but I did shed some tears. It is such a beautiful ceremony and way to remember our babies. It shows you visually that you are not the only one.

The statistics read off were astounding to me, especially for an advanced country. The two statistics that stood out to me were that, of 3.3 million births yearly in the U.S., 500,000 babies die within 28 days (2004 statistics). No, the numbers here are not wrong or inflated. The other statistic that got me is that in Oklahoma alone (not a hugely populous state), there are 27,000 infant deaths/year. Just think about those numbers and wonder why, in an industrialized nation, these numbers are so very high. Those numbers are going to stick with me and bother me, I can tell.

Here are some pictures from today:

Before everyone was there.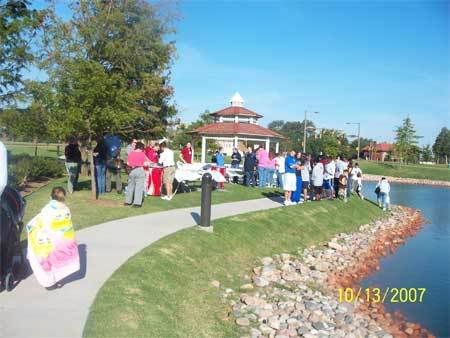 Just for Elizabeth; the helicopters took off while we were there.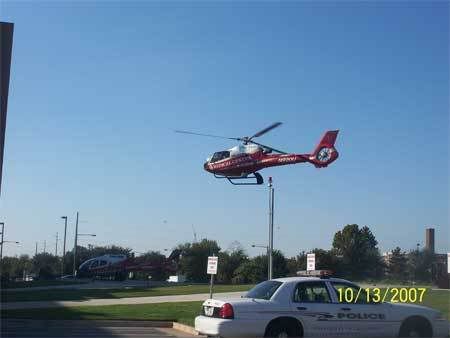 The stone at the pond.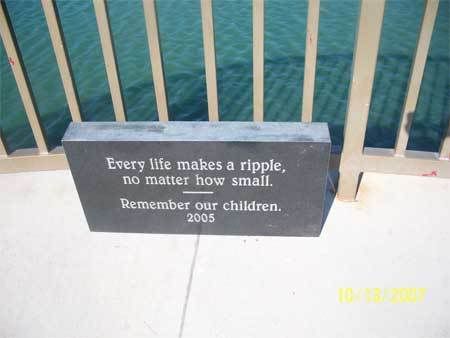 Drew's crew, from left to right: Great-grandma Lilly, Granddaddy, Daddy, Mommy, Elizabeth, Grandmama and Carson.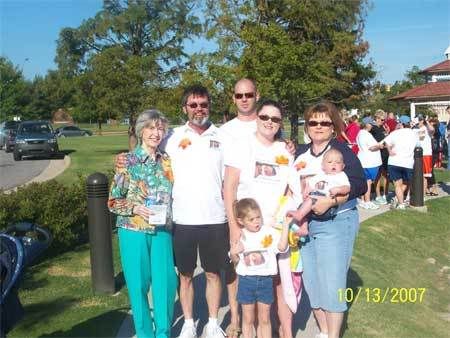 I got a comment from Cara who found this blog while searching for information about the walk. How cool is that?! Someone in the general Oklahoma area has found us in our little corner on the web!! That really excites me for some reason.

Ok, so right before the actual walk began, a lovely couple came up to me. They introduced themselves and the first thing I noticed was that we had the same last name. (No relation that I'm aware of and our last name, and it's spelling, isn't that common.)

Anyway, Sarah told me that their daughter had passed away from a diaphragmatic hernia. So there's 2 coincidences. THEN she said that the NICU staff was shocked when there was a Lewallen baby with a CDH, thinking that it might have been us again. So their family learned about Drew via the nurses and NICU staff (not a problem, I've told them to share our information with anyone who might benefit). She also told me that they received the books that we donated to the NICU to be given to families who lose a baby. The books that you all helped to raise money to purchase!!

We did not have a chance to speak to one another very long, long enough to share a hug, but if I have things correct, we were told about their family when Carson was in the NICU. When they saw our last name, Drew's nurses were perplexed because they had just had a Lewallen baby with CDH, on ECMO, who passed away and were wondering how they could be back so soon. Then they saw it was us and we had a mini-reunion with a few of the nurses which is when they told us about THIS Lewallen family and how they had told them about Drew.

How strange is it that there would be another Lewallen baby, at the same hospital, with the same condition and with the same outcome? And Drew has helped their family with the books donated in his name. I seriously had chill bumps for about 15 minutes. I don't need to be hit in the head to realize the connections there.

(Another aside, when in the hospital with Carson, one of my nurses had the same last name, same spelling, no relation, as us too.)